NEWCS
Community Education 
Education is the Key to Conservation!
 NEWC's education programs use the veterinary care of wild animals to teach, train, and reconnect people to wildlife, to the environment and to one another. Our programs include in-school and out-of-school programs at our facilities and in classrooms. Undergraduate, veterinary, and high school students complete job training internships in both our hospitals. We also provide skills training and education opportunities for more than a dozen organizations that serve intellectually and/or emotionally challenged teens and young adults, nonviolent inmates, veterans recovering from trauma, small community groups and education centers.
In addition, beyond direct medical care to wildlife, New England Wildlife Centers' work confronts as many obstacles to the humane care of wildlife as possible. We are able to reach hundreds of thousands of people through our online presence on Facebook, Instagram, blogs, news outlets and through our website. There are millions of wild animals each year in need of emergency medical care in Massachusetts. Our hospitals in Weymouth and Barnstable can only care for a small fraction. In order to help more animals we design and deliver professional training seminars and educational programs to wildlife rehabilitators, animal control officers, veterinarians, and law enforcement.
Make a Donation to make it possible
We depend on your support to make these programs possible for students of all ages and abilities in our community.  Each year we work to provide free and paid programs to thousands of students in Massachusetts and Beyond. The schools, community centers, libraries, non-profits, and professional organizations we work with depend on these programs, but can't afford the cost. Make a donation today, and give the gift of education!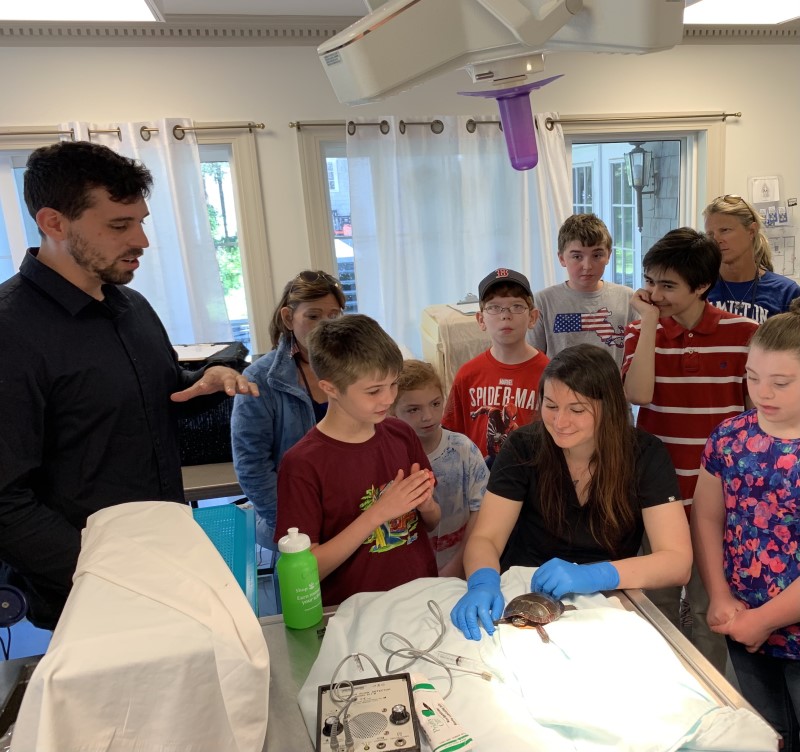 Get Involved 
Education Opportunities

We offer immersive internship experience for Undergraduates, Veterinary Technician Students, Veterinary Students, and post-graduates.  Our internships are competitive and we accept students from colleges and universities all over the world , click here to learn more and apply for your spot today!

We offer classes for prospective and current wildlife professionals.  Our current courses include:  Animal Control Officer training, Wildlife Triage Training for Small Animal practitioners, and a Wildlife Rehabilitation methods course for beginners.  All courses are qualified CE credit. Call to inquire about upcoming opportunities  

We accept a limited number of volunteers on a rolling basis. We depend on volunteers to help care for our patients and carry out our mission.  It is a great way to give back and learn about wildlife in the process!

Our staff writes a monthly article called "At the Center"  for the Barnstable Patriot Newspaper. These educational articles teach readers about the natural history of Massachsuetts and the animals that inhabit our local landscapes. Click here to read the latest! 
What Drives Us 
Our Mission
To foster environmental stewardship through meaningful educational experiences and wildlife care.  We are here to support students of all ages and abilities as they learn STEM subjects and connect to the natural world. Please contact us if you are interested in setting up an educational experience today!